Angelia (Ang) Jones PT, DPT, Physical Therapist
I am originally from Panama City Beach, FL. I lived there for 18 years before moving to Tallahassee to go to Florida State University for undergrad (Go Noles!) where I received a Bachelors of Science in Exercise Science and a Minor in Psychology in 2013. I moved back to Panama City Beach after undergrad where I then worked at Hombre Golf Course while I attended Physical Therapist Assistant school at Gulf Coast State College. I finished PTA school in 2017 and quickly relocated to Jacksonville, FL where I was hired at Southeast Orthopedic Specialists. I then decided to pursue my Doctorate of Physical Therapy in 2019 at the University of St. Augustine for Health Sciences and graduated in 2021. I recently got married to my husband in 2021 and we have a fur baby named Murphy! I was previously a PTA, where I worked in an outpatient orthopedic clinic and gained a lot of exposure to post operative rehabilitation. I have done clinical rotations through my DPT schooling that focused on vestibular issues and various neurological issues. A jack-of-all trades if you will!
My values are Courage, patience, compassion, and listening.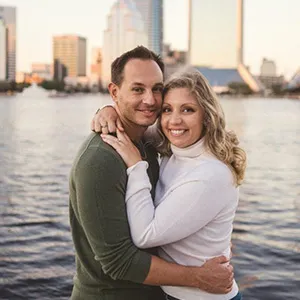 "You've made it through 100% of your bad days." "You don't have to, you get to!"
I am a Physical Therapy Clinician at Direct Orthopedic Therapy and I help people improve their quality of life! One of the things I love the most is helping people who don't know how to reach their goals.
I love working at Direct Orthopedic Therapy because of the FLEXIBILITY!! One-on-one time spent with patients, the patients themselves, and the staff.
What's Angelia Reading, Listening To, or Watching?
Going West (Podcast)
Verity by Colleen Hoover (Book)
Stuff You Should Know (Podcast)
What is Angelia's favorite guilty pleasure?
SWEETS!
In my off time I love trying new restaurants, working out, taking the dog on a walk, or relaxing by the pool with a fun cocktail! I also love a good, 1000 piece jigsaw puzzle.